Factio Magazine is giving away the Katherine Kwei Joyce-Carry All (as seen on Sienna Miller) and Pop System 40 - Swivel Chair from IQMatics! Sign up today to enter to win the amazing giveaways from Factio Magazine!
CLICK HERE to be entered into both giveaways!
Pop System 40 - Swivel Chair from IQMatics(Retails for $995)
Very sleek contemporary chair with fun shape. Part of the designer line of compact chairs in POP series. Available in wide selection of color options in 10 grades of leather, premium microfibers including Alcantara Italian chenilleson rotating steel base in matt finish. Contract Quality. Made in EU. In stock in two tone combination Gold back cushion and Bianco seat cushion.
Details: Winner can pick up the IQMatics chair from the showroom or IQMatics can ship it for extra charge within continental US. Sign up to win the IQMatics chair until Feb. 10th where winner will be notified by e-mail.
About IQMatics -Award-Winning European Furniture
IQMatics is a company that offers high-end European furniture from Italy, Germany, and Poland. Some of the Italian and German brands that it carries are Prealpi, Rossetto, Bontempi Casa, Jesse, Natuzzi, Polaris and others. It was established in August of 2001, and has received awards for its top quality. Some of these awards are: MTP Gold Medal 2008, Red Dot Winner 2008, Trendy 2006 Award, and Sofa of the Year 2005. IQMatics prides itself on the magnificent designs that they are able to provide to their consumers. Noti, Designer's Guild, and Mohodesign are among the designs that exhibit this fine quality. Some of the company's most popular furniture are contemporary sofas and sectionals, ottomans, plasma stands, coffee tables, and bar stools.
IQMatics
1224A N. Roselle Rd., Schaumburg, IL 60195,
847.885.3600

Win Sienna Miller's Joyce-Carry All Handbag by Katherine Kwei!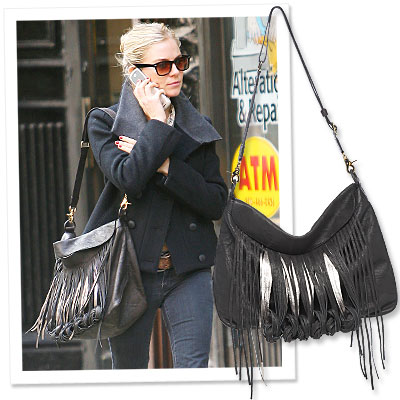 Joyce Carry-All, calf and lambskin. Retail Price, $625. Sold at SAKS Fifth Avenue New York, SAKS Fifth Avenue Beverly Hills and Luna Boston (www.lunaboston.com).
Details: Factio Magazine will ship the Katherine Kwei handbag to winner. Sign up to win the Katherine Kwei handbag until Feb.10th where winner will be notified by e-mail!
About Katherine Kwei: A former PR rep for luxury giant Louis Vuitton, Katherine Kwei was familiar with high-end skins and craftsmanship long before she started her own line which debuted in 2007. Kwei draws inspiration each season from her heritage: she adapted her signature Chinese "Eternity" knot-inspired weave learned from her grandmother. Catching the attention of a growing list of celebs including Cameron Diaz, Blake Lively, Eva Longoria, Jennifer Lopez, Eva Mendes, Taylor Momsen, Ashley Olsen and Olivia Palermo, her line has also kindled a following of well-heeled women and luxury boutiques. For more info, visit www.katherinekwei.com.
Please note that it is one winner per prize.