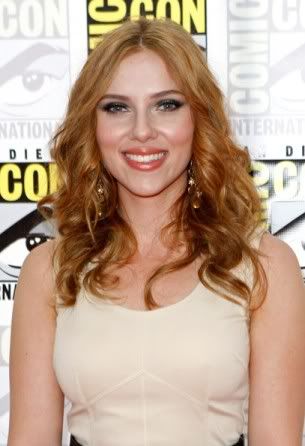 Celebrity hairstylist, David Babaii, showed us how to take limp bored locks and turn them into summer wonders. His guinea pig of choice, Scarlett Johansson. To give Scarlett curly and sexy soft waves, Babaii applied his Amplifying Whipped Mousse from roots to ends. This gives hair just the right amount of volume with a strong hold.
Next, he dried her hair using his hands. Once dry, he sectioned her hair into 3 different parts: top, sides and back leaving the nape area free. Babaii says its important to do this step because you need to have control of the hair at all times in order to have a successful style. By using a 1 ½" sized FHI Heat Ceramic Curling Iron he is able to create luscious waves with ease.To style the looks, Babaii took small "V" shaped strands and wrapped them around the inside of the barrel allowing each curl to fall naturally. Throughout this process he ran his fingers through selected strands and used Volcanic Ash Root Amplifier to give her tresses more volume, fullness and texture. The finishing touch was a spray of Mise en Plis Light Styling Spray.
Babaii's next look for Scarlett was modeled after a 40's Marilyn Monroe look which gave her the illusion of a chin length "bob" without cutting any hair.
To achieve this look, Babaii dried the hair and applied Hair polish while it was still damp. The he divided her hair into 3 sections, the same way as he did for the first style. He then took a 1 ½ inch FHI Heat Ceramic Curling Iron throughout her entire head. The sides and back curls were pinned into various sized looped curls giving the illusion of a short "bob". To form the soft waves, Babaii gently brushed her hair to one side. To glam it up a bit, Babaii secured the hair with a decorative pin and again used Mise en Plis Light Styling Spray for a soft long lasting hold.
-Tracey Johnsen